Ayush, Darshan In Final; Unnati To Face Rakshitha | Bengaluru News
2 min read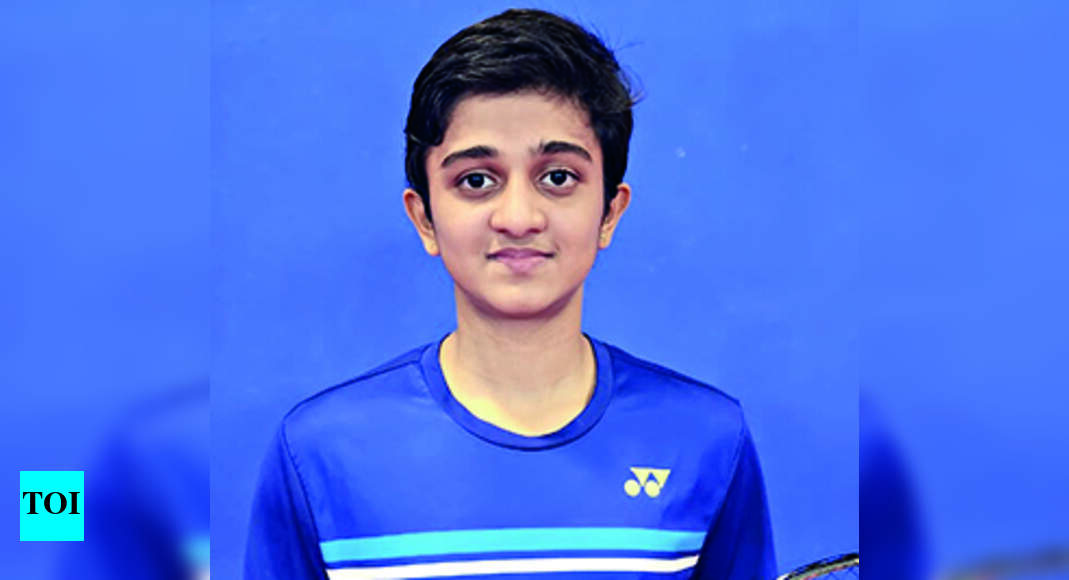 Bengaluru: Karnataka's Ayush Shetty set up a boys' singles last in opposition to fifth seed Darshan Pujari of Maharashtra in the Union Bank of India All-India junior (U-19) position badminton event listed here on Thursday. Unnati Hooda of Haryana will acquire on qualifier Rakshitha Sree S for the girls' singles title.
Tenth seed Ayush, 16, who trains at the Prakash Padukone Badminton Academy, set it across next seed Bharat Raghav 21-12, 20-22, 21-16 in his semifinal. Ayush experienced a reasonably quick run in the to start with video game but could not make the prospects depend in the second as Haryana's Bharat hit again to degree the scores. Nonetheless, the very first PUC commerce scholar at PES college or university performed the huge details very well in the selecting game to acquire the match.
Darshan, who had ousted major seed Pranav Rao Gandham of Telangana in the quarterfinals, put paid to the hopes of Lakshay Sharma of Punjab 26-24, 23-21 in the other previous-4 match. Darshan is in line for a double as he achieved boys doubles last with Abhinav Thakur of Punjab.
Unnati, 14, shed the initial activity by a whisker but confirmed sufficient resilience to defeat her state-mate and tenth seed Devika Sihag 21-23, 21-17, 21-19 in a semifinal fixture that last an hour and 10 minutes. Meanwhile, Rakshitha, who trains at the P Gopichand academy in Hyderabad, took five additional minutes to conquer an equally established Neysa Cariappa A of Karnataka 21-13, 16-21, 21-19 with the decider staying a nerve-racking affair.
This week has been a person of intense action for Rakshitha. The 15-12 months-outdated Coimbatore female performed the qualification rounds in both singles and doubles ahead of scalping eighth seed Shreya Lele and third Sakshi Phogat of Rajasthan in the singles key draw en route to the remaining.
Effects: Boys: Semifinals: 10-Ayush Shetty (Kar) bt 2-Bharat Raghav (Har) 21-12, 20-22, 21-16 5-Darshan Pujari (Mah) bt Lakshay Sharma (Pnb) 26-24, 23-21. Quarters: Darshan bt 1-Pranav Rao Gandham (TS) 14-21, 21-17, 21-16 Lakshay bt Sathwik Reddy K (TS) 21-17, 21-18 Ayush bt Abhishek S Kumar (Ker) 21-10, 21-13 Bharat bt 7-Sanskar Saraswat (Raj) 21-14, 21-13.Ladies: Semifinals: Unnati Hooda (Har) bt 10-Devika Sihag (Har) 21-23, 21-17, 21-19 Rakshitha Sree S (TN) bt Neysa Cariappa A (Kar) 21-13, 16-21, 21-19 Quarters: Unnati bt Mounitha AS (Kar) 21-19, 21-8 Devika bt 4-Meghana Reddy M (TS) 21-7, 21-10 Rakshitha bt 3-Sakshi Phogat (Raj) 21-17, 21-13 Neysa bt Naishaa K Bhatoye (Mah) 21-7, 21-10.